The History of Vista Steak and Seafood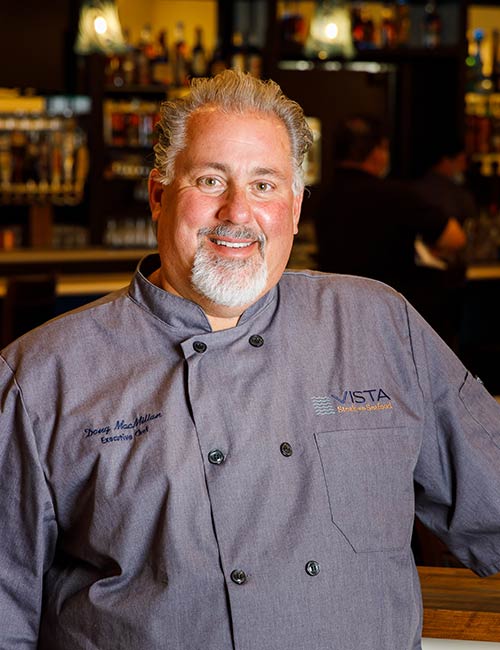 Welcome to Vista Steak and Seafood in Pismo Beach where 35 years of restaurant experience in coastal cuisine has culminated in this family-owned and operated restaurant by the sea.
Executive Chef and owner Douglas MacMillan began his culinary career working as a kid in his parents' Italian restaurant in Bakersfield. When his parents Ada (Rosa) and Bill MacMillan decided to open Rosa's Ristorante Italiano in Pismo Beach, Doug soon followed and took control of the kitchen.
After working in restaurants in and around Turin, Italy, Doug returned with the experience of Northern Italian cuisine. This melding of his mother's Southern Italian dishes and his apprenticeship in the north of Italy has produced an award-winning chef who delights diners with his use of the finest quality ingredients.
Doug met his wife Shannon at Rosa's and they settled down in Pismo Beach to raise their two kids, Brianna and Nicholas. A Cal Poly graduate in Wine and Viticulture, Brianna now works in the family restaurants. Nicholas attends Cal Poly San Luis Obispo in Agriculture Business and works at Rosa's during breaks.
When a property across the street from Rosa's became available, Doug and Shannon jumped at the chance to open a small seafood restaurant and Ada's Fish House was born.
With absolutely no plans to open another restaurant, and a global pandemic to deal with, The MacMillan's received an offer to take over this iconic restaurant property with the most outstanding views on the central coast….they couldn't say no.
California innovations at Vista Steak and Seafood add an emphasis on simplicity and freshness and the result is exciting, satisfying food. Chef Doug prides himself on the ability to serve simple dishes with creative flair.
The owners, staff, and management are grateful for your patronage and wish you a pleasurable dining experience.